CLARK WELDING SERVICE
STEEL WATER TRUCK TANKS
We design our water truck tanks to provide dust control in the most efficient ways. Our Rain on Demand product line provides the best water dispensing equipment on the market.
SIZES
Our steel water truck tanks are available in sizes ranging in 2,000 gallons to 5,000 gallons.
FEATURES
Our steel water truck tanks are constructed of ASTM A36 mild carbon steel and feature 3/16" shell, ¼" belly plate and 10GA heads. Our design features continuous solid welded seams inside and out. Some of the features our water truck tanks are equipped with include:
Interior baffles for the prevention of sloshing
Access ladders
Non-skid grip on walking surfaces
Full length tank runners
Top manway opening for drop loading
Hydrant fill
Exterior primer and paint color of customer's choice
CUSTOMIZATIONS
Customers can request customization to be made to our steel water truck tanks for added safety, efficiency and to meet important needs. We can design the tank to be compatible with the customer's chassis. Custom paint colors and company logo are also available.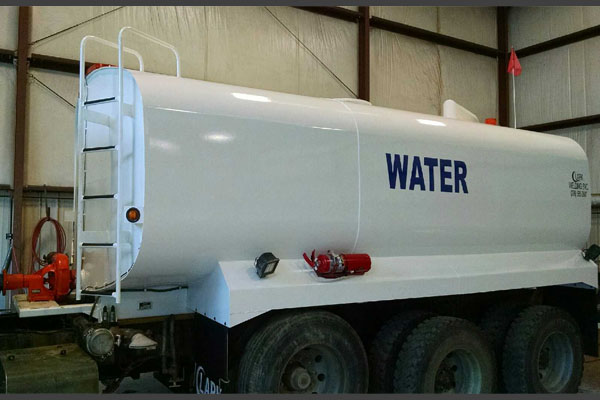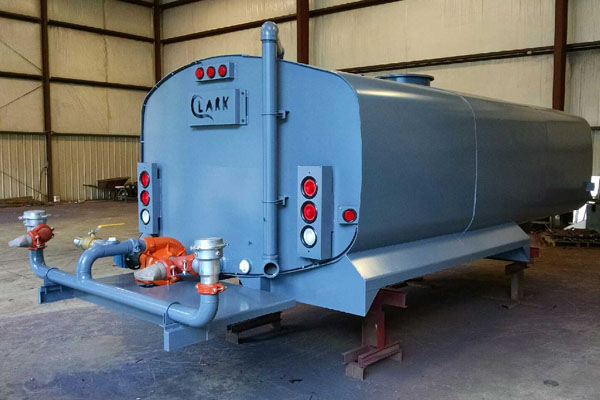 TANK OPTIONS
For increased safety and efficiency, we offer a large variety of options, which can be added to our water truck tanks. Some of those include:
Rear spray bar
Interior coating
Raised dome hatch lid
Full length built-in fenders
24" Manway
Rear platform area
KITS
To provide customers with quick and easy self-installation, our steel water truck tanks are available in kit form. Kits can include pre-installation of plumbing, sprays, hydraulics, wiring and other equipment. Kits can be equipped with any of these items:
Air operated cab controls
Berkeley water pump
DOT compliant lighting
Front, side and rear sprays
Pre-installed plumbing with Victaulic fittings.
PTO
Mud cutting and fan spray nozzles
Spring loaded mounting system for long life Leaf spring hold down kit
Lights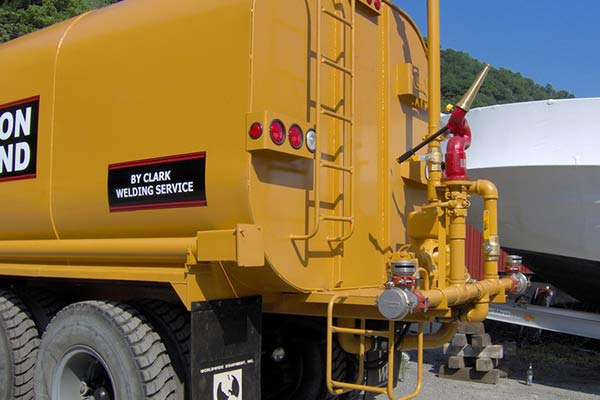 Some of the other equipment options we offer for our steel water truck tanks and kits are:
Fire Extinguisher
Hose reels – spring rewind
Pumping system, which enables the user to pump water from a pond, river, or stream.
Traffic advisory signs, flags and cones
Sight Gauges
Water cannon / monitor, which provides a high-capacity. Manual or remote control operated.
We serve any industry in need of dust control or soil compaction. A design consultation is just a phone call or email away. Contact us for a quote. If you are looking for fuel storage tanks, visit our site for that product line.